This will initially be a nostalgic set of postings drawing on data that used to be on my website (currently not hosted).
I have not really touched my Beach Buggy in a number of years, it is currently sat in the garage awaiting an engine rebuild whilst sat under a mountain of "stuff".
This is what it looked like when I first bought it back on 29th May 1999.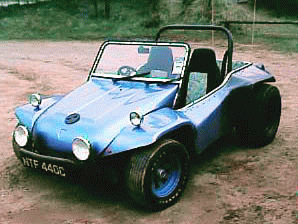 It is a Mk3 Volksrod (one of only 100) originally built in 1971 using a 1965 floorpan that had been shortened by 14″.
It came with a 1600 engine, progressive Weber carb, twin cannon exhausts, a 1300 gearbox, 15″ steel Weller wheels with drum brakes and Kelly Supercharger banded tyres – a killer combination in all senses of the phrase.
The engine has been through a number of incarnations and carburettor choices, not necessarily in the following order:
1585 (69×85.5) Type I, single Weber 32/36 Progressive, stock cam
1585 (69×85.5) Type I, twin Kadron 40s, stock cam
1776 (69×90.5) Type I, twin Weber IDF 40s, Engle 120 cam
2021 (76×92) Type I, twin Weber IDF 44s, Bugpack 4016 cam
2332 (84×94) Type I, twin Weber IDF 48s, Webcam 86B cam
1971 (71×94) Type IV, twin Weber IDF 44s, stock cam
2056 (71×96) Type IV, twin Weber IDF 44s, stock cam
I have broken most of the above engines, some quite spectacularly, along with most of the following gearboxes:
1300 stock gearbox (3.77, 2.058, 1.261, 0.889, 4.375 R&P, 27″ Tyre)
Berg 5 race built gearbox (3.875, 3.777, 2.058, 1.583, 1.125, 0.889, 3.88 R&P, 27″ Tyre)
4 speed race built gearbox (3.33, 1.75. 1.90, 0.74, 3.88 R&P, 32″ Tyre)
I used to drag race the buggy, after a fairly extensive rebuild that involved replacing nearly every part and a complete rewire from scratch.
At it's best I managed a 13.2 second quarter mile, with the above mentioned 2332 engine and 4 speed race built gearbox.
Here I am at the start line at Shakespeare County Raceway back in 2004 shortly before shearing all 8 dowels between the crankshaft and flywheel: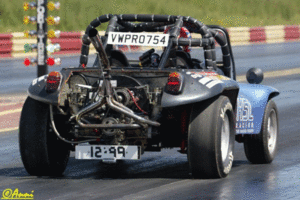 The drum brakes were replaced fairly early on, brake fade anyone? These were replaced by VW disc spindles at the front to which I mounted Talbot Horizon calipers and aftermarket rotors drilled to Porsche 5  pattern. The rear brakes were replaced with Porsche 944 rear rotors and calipers that simply bolt straight on (gotta love the shared history).
The current engine/gearbox combination is a stock 1300 gearbox with the Type IV 2056 engine listed above with a Porsche 911 upright fan conversion using many FAT performance parts and looks a lot like this: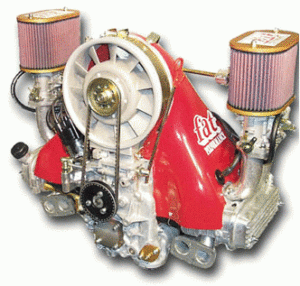 One of the best tweaks I ever performed was wiring it up for towing with an electric socket at the front that connects into the lighting circuits, such that an A frame, a short length of electrical hookup, a couple of trailor triangles clipped to the rear of the buggy and a clip over number plate and all good to go. Reversing is a bit of an issue, but otherwise about a 5-10 minute job and no trailor light boards required.